Architecture Books – Week 16/2022
The latest review on A Weekly Dose of Architecture Books:
Alison & Peter Smithson: Hexenhaus: A House for a Man and a Cat edited by A&P Smithson Hexenhaus-Archiv, published by
Walther König.
---
Architecture Book News:
---
A trio of recent additions to my library signals I'm in an orange mood. (No, I don't color code the shelves in my library — never have, never will.):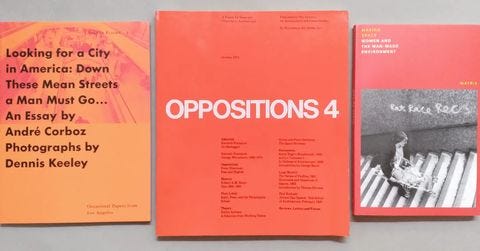 ---
A few recently received books:
See these and more recently published and forthcoming architecture books on my blog and on my Bookshop.org page.
---
Giveaways:
I am giving away one copy of Johnsen Schmaling: On Rigor, the first monograph on Wisconsin's Johnsen Schmaling Architects, published by ORO Editions. I included this monograph with a "baker's dozen of buildings completed between 2011 and 2021" in a "Book Brief" last month. Have a mailing address in the US and want to win a copy? Just reply to this newsletter indicating so. I'll randomly select the winner before next week's newsletter.
---
Thank you for subscribing to A Weekly Dose of Architecture Books Newsletter. If you have any comments or questions, or want to see your book on my blog, please respond to this email, or comment below if you're reading this online.
— John Hill