Architecture Books – Week 30/2022
A Double Dose of Louis Kahn
The latest review on A Weekly Dose of Architecture Books:
Two Louis I. Kahn books: Louis I Kahn (Revised and Expanded Edition) by Robert McCarter and The Notebooks and Drawings of Louis I. Kahn (Facsimile Edition and Reader's Guide) edited by Richard Saul Wurman and Eugene Feldman.
---
Architecture Book News:
---
Holger Schurk's Project Without Form: OMA, Rem Koolhaas, and the Laboratory of 1989 (@spectorbooks, 2022) features stills from movies made by artist Claudi Cornaz with his helmet camera, which he would wear while roller skating through the office of @oma.eu to document various situations of everyday work: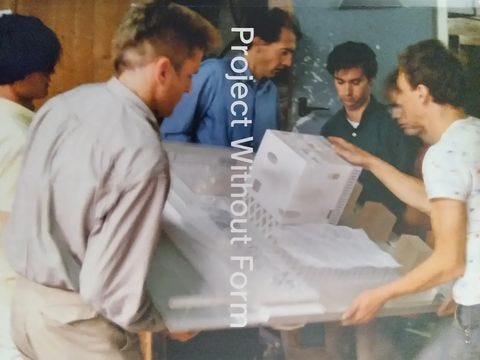 ---
A few recently received books:
See these and more recently published and forthcoming architecture books on my blog and on my Bookshop.org page.
---
Giveaways:
Congratulations to James C. — who introduced me to Block 411 — on winning the set of a+t's 50 Urban Blocks 2: How to use Form, Floor Area Ratio & Density.
Due to a (surprising) lack of interest in no-strings-attached free stuff, I've decided to suspend Giveaways for now, maybe bringing them back in the future.
---
Thank you for subscribing to A Weekly Dose of Architecture Books Newsletter. If you have any comments or questions, or want to see your book on my blog, please respond to this email, or comment below if you're reading this online.
— John Hill