Architecture Books – Week 45/2022
The latest review on A Weekly Dose of Architecture Books:
G. E. Kidder Smith Builds: The Travel of Architectural Photography by Angelo Maggi, published by AR+D Publishing.
---
Architecture Book News:
Big news! Archpaper reports that "Eames Institute acquires San Francisco's storied William Stout Architectural Books." The "fledgling" The Eames Institute of Infinite Curiosity is headed by Lisa Demetrios, daughter of Charles and Ray Eames.

Somehow the New York Public Library, home of the jaw-dropping Rose Reading Room, was left out of this (admittedly click-baity) article on "the 12 Most Beautiful Libraries in the U.S.," but the Kansas City Public Library, with its goofy book-spine facade, made the cut.

The Curbed staff rounds up the "Best New Books for Design, Architecture, and Urbanism Enthusiasts" — thirteen titles "spanning the worlds of interior design, architecture, urbanism, and art."
---
Black on beige drawings set Philip Johnson/John Burgee: Architecture 1979–1985, published by @rizzolibooks in 1985, apart from other architectural monographs published around that time. Book was designed by Massimo Vignelli, who had a knack for making books, architecture and otherwise, stand out from the rest: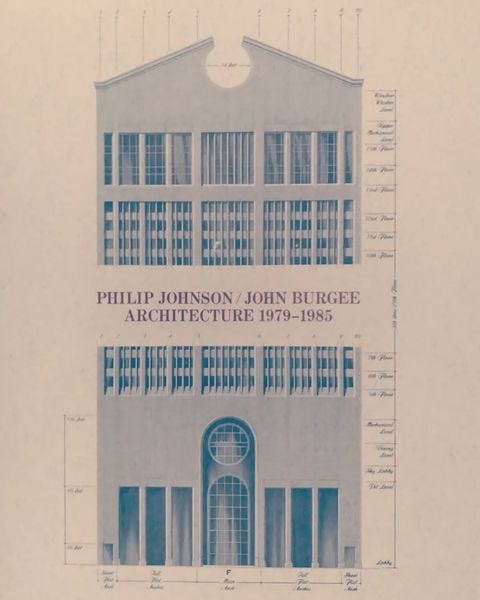 ---
Thank you for subscribing to A Weekly Dose of Architecture Books Newsletter. If you have any comments or questions, or want to see your book on my blog, please respond to this email, or comment below if you're reading this online.
— John Hill