Architecture Books – Week 5/2023
Going back in time...
This week on A Weekly Dose of Architecture Books:
I dug out some old catalogs from the Prairie Avenue Bookshop and ended up rambling on about the nineties, recommending what I think are some valuable books from that theory-heavy decade.
---
Architecture Book News:
---
Spotted in a Prairie Avenue Bookshop catalog from 1998/99. Too bad it wasn't a real monograph: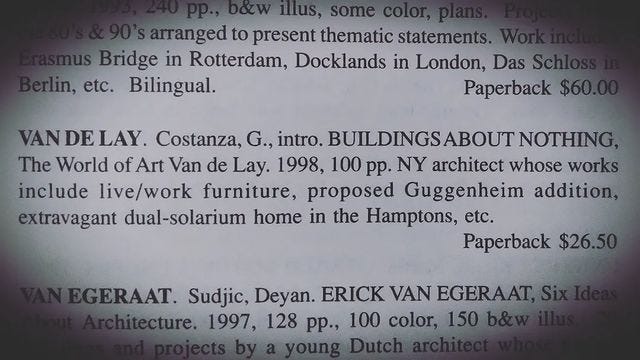 ---
A few recently received books:
Find recently published and forthcoming architecture books on my blog and on my Bookshop.org page.
---
Thank you for subscribing to A Weekly Dose of Architecture Books Newsletter. If you have any comments or questions, or want to see your book on my blog, please respond to this email, or comment below if you're reading this online.
— John Hill